Over the weekend, SPIRE Academy held its annual graduation ceremony, celebrating the achievements of its graduating seniors. The event was a culmination of years of hard work and dedication, with students, parents, and faculty members alike beaming with pride.
The ceremony featured several speakers, including senior speaker Autumn Taylor, who was nominated and voted on by the student body, keynote speaker Bobby Kaleal, who was selected by the senior committee, and a student-selected teacher speaker. Each speaker offered inspiring words of wisdom and encouragement to the graduates as they embark on the next chapter of their lives.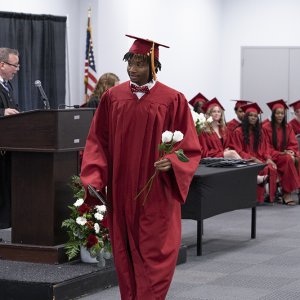 The ceremony also included the announcement of several awards. The title of Class Valedictorian was bestowed upon Christian Burnett. The Scholarship Award went to Omar Abdelwahab for demonstrating outstanding academic achievement throughout his SPIRE attendance, while the Perseverance Award recognized Daelynn Haywood who overcame significant obstacles, including athletic injuries, to reach her goals. 
The Innovation Award was given to junior Ani Singh for showing exceptional creativity and originality on and off the basketball court, and the Resilience Award went to Ramiyah Byrd who displayed remarkable strength and persistence in the face of adversity. The Empathy Award recognized junior Alex Rochette who demonstrated continuous, exceptional kindness and compassion towards everyone on the SPIRE campus, and finally, SPIRE's All-Around Award went to Ma'Shy Hill, a student who best exemplified all of these aforementioned qualities.
One of the major highlights of the ceremony was the seniors' college commitment announcements. The students were met with cheers and applause from the audience as they proudly shared their next steps in their academic journeys.
SPIRE is proud to announce the following students that have announced commitments:
Omar Abdelwahab – University of Minnesota
Aiden Anderson – University of Kentucky
Tyshawn Archie – James Madison University
Ramiyah Byrd – University of Cincinnati
Mykayla Cunnigham – Lindenwood University
Alana Devlin – Arizona State University
Yassen Eltaranisy – Grand Valley State University
Daelyn Haywood – Old Dominion University
Ma'shy Hill – Abilene Christian University
Donovan Hunter – Kent State University
Jackson Lusk – Gardner–Webb University
Xavier Tubbs-Matthews – Elizabeth City State University
Andre McCloud – Dennison University
Neo Mosebi – Florida State University
Jonathan Ogunfuye – Mt. Saint Mary's University
Galdan Batzorig – Hiram College
Ziyan Ali – Blinn University, St Edwards (both in Texas)
Marat Belhouchet – Roberts Wesleyan University
Marcel Bryant – University of Nebraska
Keynan Davis – The Citadel
Abdoulaye Fall – Cloud County Community College
John "Jack" Kollhoff – Ashland University
Christopher "CJ" Krzanowicz Jr – Eastern Washington University
Max Markgraf – Cornell College (Iowa)
Xavier Martinez – University of Colorado Springs
Emil Milde – Babson College
Dylan Page – Deakin University (Australia)
Daniel Pounds – Old Dominion University
Daniel Young – Cleveland State University
The ceremony concluded with a flower ceremony, where each student was presented with a flower and then given the opportunity to thank their family, friends, and teachers for their continued support throughout their time at SPIRE Academy.
The graduation ceremony was a tribute to the many years of commitment and hard work these dedicated students have performed. This was a memorable and heartwarming event honoring and celebrating the incredible accomplishments of SPIRE'S graduating seniors and their bright futures ahead.